---
AMATEUR RADIO REPEATERS INTERFERING WITH GOVERNMENT RADAR
Some 450-MHz repeaters may have to shut down
>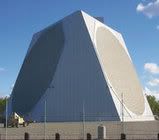 According to an Air Force Space Command Factsheet, PAVE PAWS is an Air Force long-range phased-array early warning radar system designed to detect and track submarine launched and intercontinental ballistic missile attacks against the United States. The letters PAVE PAWS stands for Precision Acquisition Vehicle Entry - Phased Array Warning System.
Each of the Pave Paws radars is housed in a triangular 100-foot high "pyramid-shaped" building. They began operating in 1980 from Otis AFB on Cape Cod (Massachusetts) and Beale AFB, near Marysville, California.
Pave Paws can simultaneously detect and discriminate among many objects and provide data on launch, position, velocity and impact. The system also tracks earth satellites and other space objects. The Pave Paws system can detect inbound missiles more than 3,000 miles away.
Built by Raytheon, Pave Paws operates on frequencies between 420 and 450 MHz with an average effective radiated power of 150 kW. And therein lies the problem. That's the frequency of the 70-cm ham band. The Air Force says that nearby amateur radio repeaters have been interfering with the sensitive radar system.
The Amateur Radio Service is a secondary user in the 420 to 450 MHz band. As such, Amateur Radio licensees bear the responsibility of mitigating or eliminating any harmful interference to the primary user, which in this case is the Government Radiolocation Service that includes the Pave Paws radar systems. According to the ARRL, the interference is apparently being caused by 15 repeaters located less than 100 miles from Cape Cod ...and more than 100 repeaters within 140 miles of Beale Air Force Base.
Earlier this year, the US Air Force asked the FCC to order dozens of repeater systems to either eliminate interference to the Pave Paws radar installations or shut down. In an effort to eliminate the interference, the ARRL has sent out more than 100 letters to owners and trustees of 70 centimeter repeaters whose systems have allegedly affected the government radar installations. The letters essentially tell these hams to lower the output power of their repeaters to 5 watts and await further notice from the FCC.
The ARRL is working with the Department of Defense (DOD) to develop a workable plan to eliminate the interference from 70 centimeter ham radio repeaters to early warning military radar system on both coasts. The DOD has indicated a willingness to try a mitigation proposal, but they have also indicated their need is for these issues to be resolved sooner rather than later.
Additional corrective action may be needed by certain repeaters. This might include further power reductions, lowering of antenna heights, use of more directive antennas and other possible interference reduction techniques. If there is a disagreement on the conclusions, a conference call will be held to resolve any outstanding issues. All interference must be resolved no later than August 1st.
The ARRL says that even with extreme measures, its still possible that some repeaters in close proximity to the Pave Paws sites may have to be shut down permanently. If that happens, official notice would come from the FCC. Some repeaters might be required to operate permanently at a lower power level in the areas near these Air Force bases. In those cases, the League will be in contact with the individual repeater owners and the FCC will be notified.
---
REQUEST FOR SPECIAL "UFO" CALL SIGN DENIED BY FCC
Jerry D. Janow, N5IMJ, trustee of the Saucer Ridge Amateur Radio Association (Roswell, New Mexico) had his December 2006 request for reconsideration of a special Vanity call sign denied by the FCC on June 27.
He wanted NM5UFO to replace KE5LRJ since "...the assignment of the requested call sign would be in keeping with the theme that Roswell, New Mexico has been known since 1947 as the crash site of a UFO."
Many people believe a UFO and its crew of bugged-eyed aliens came crashing down in Roswell 60 years ago. Supposedly, in early July, 1947, a mysterious object crashed on a ranch 30 miles north of Roswell. This past weekend (July 5-8) at least 35,000 people descended on Roswell for the 2007 Amazing Roswell UFO Festival filling every hotel room and nearly doubling the southeastern New Mexico town's population.
FCC's Scot Stone, Deputy Chief, of the WTB Mobility Division again denied the "UFO" suffix call sign request since two-by-three format Amateur Radio call signs with the first letter being an "N" are not issued to Amateur Radio stations. "Only call signs that are in the sequential call sign system may be requested as vanity call signs," Stone said in a June 27th letter adding "...call signs of a 2-by-3 format with the first letter K or W - but not N - are available for assignment."
---
LIFE IN 'TORNADO ALLEY' QUIET SO FAR, BUT BE PREPARED, EXPERTS SAY
It doesn't take a meteorologist to figure out that when the clouds start to darken and the wind starts picking up, it's time to get indoors and turn on a radio.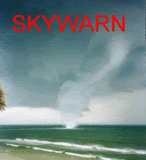 Fortunately, there hasn't been any twister action yet this year, although it's already well into tornado season - March through October. That's not to say area residents shouldn't be prepared. "Tornado Alley" - a flat stretch of land from Texas to North Dakota - is an ideal breeding ground for tornadoes.
It's where dry polar air from Canada meets warm moist tropical air from the Gulf of Mexico. In the northern states, more tornadoes occur in the late spring and summer, although they can occur at any time of the year, day or night.
Nocturnal twisters tend to be the most dangerous, because even the most highly trained weather-spotter can have difficulties deciphering just how bad and just exactly where the storm is, said Frank Lachat N9JWI, emergency coordinator for Lee County amateur radio emergency systems.
"If you don't have a lot of lightning strikes, it's hard to see it coming, so you rely on radar. It gets scary if you can't see where it's at, but we know vantage points," Lachat said.
He and about 26 other trained weather-spotters and amateur radio operators work with the National Weather Service to report incidents of severe weather on their ham radios.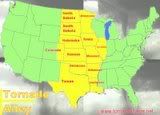 "Amateur radio is used for emergencies, and weather-spotting is kind of an emergency. We hope you don't spot a tornado, because you don't like to see them," said Lloyd Sherman KB8APW, another weather-watcher and the assistant emergency coordinator for the 35-member amateur radio group in Whiteside County. (Courtesy: Sauk Valley Telegraph, Dixon, Illinois)
---
NORTH CAROLINA ENACTS HAM RADIO ANTENNA LAW
North Carolina is the latest state to adopt legislation that guarantees most radio hams can erect and use antennas.
On Friday, June 29th, North Carolina Governor Mike Easley signed HB1340, also known the 'Amateur Radio Antenna bill' into law. The measure, which is crafted to follow the guidelines set forth in the FCC's Federal Preemption Order PRB-1, permits antennas up to 90 feet in height in areas regulated solely by municipal ordinances.
However like in other states, the North Carolina measure does not override those Conditions, Covenants and Restrictions which might preclude antennas or even the ownership or use of radio transmitting gear by those who have signed deeds with those restrictions built in.
Such CCR's are still deemed to be personal contracts between a buyer and a seller. As such, they remain outside the realm of federal or state regulation. They were also specifically excluded when PRB-1 was enacted.
The North Carolina bill was introduced in February. It passed unanimously in both the House and the Senate and takes effect October 1st. With this action, North Carolina becomes the 25th state to enact laws that guarantee the rights of its ham radio operators to have the antennas they need to go on the air. (Source: Amateur Radio Newsline)
---
10 METER UNLICENSED TRUCKER CITED BY FCC
The FCC has acted in a case where a trucker has been found to have illegally taken up operation on 28.085 MHz and is warning the company it will face stiff fines if the pirate operation does not cease.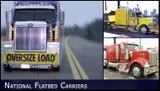 The target of the FCC enforcement action is Tennessee Steel Haulers of Nashville, Tennessee. In a letter to the company the FCC says that it has evidence that at least one of its drivers had been operating radio equipment on 28.085 MHz without a license and causing interference to licensed stations in the Ten Meter amateur band. Specifically that this past May 3rd the driver was observed on Interstate 85 in Gastonia, North Carolina, at 6:40 P.M. while operating the radio gear.
Tennessee Steel Haulers were warned that this type of unlicensed operation is a direct violation of Section 301 of the Communications Act of 1934. The penalty for such operations includes the possibility of seizure of any non-certified radio transmitting equipment along with a hefty fine or even time in jail. The company was also instructed to contact FCC Special Counsel Riley Hollingsworth to discuss the issue with him. (FCC)
---
FCC ORDERS SEVERAL RADIOAMATEURS TO STAY OFF REPEATERS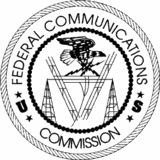 Several hams who refused repeater owner/control operator requests to not operate on their systems have been issued official warnings and ordered to comply by the FCC. In separate cases the FCC notified Donald Ellis KB0TVP of Sioux Falls, SD; Jeffrey B. Bregel KD6NBD of Mission Hills, CA; Henry A. Stange WA6RXZ of Temecula, CA; James B. Cormia WB2GAJ of Herkimer, NY and William Westley, Jr. AF4GC of New Port Richey, FL, that they must not operate on certain repeaters in their geographic areas.
"The Commission requires that repeaters be under the supervision of a control operator and not only expects, but requires, such control operators and licensees to be responsible for the proper operation of the repeater system. Control operators may take whatever steps are appropriate to ensure compliance with the repeater rules, including limiting the repeater use to certain users, converting the repeater to a closed repeater or taking it off the air entirely," the FCC said
Prior to the FCC acting, Ellis was requested by the licensees of W0MXW and K0RGR repeaters to stop from using them. Bregel and Stange had been asked to stay off the K6GE repeater, Cormia the WS2W machine; and Westley had been asked by the licensee of the W4FLG repeater to stop using that machine. The FCC said it took the enforcement action because these radioamateurs would not follow the user operational guidelines as set forth by the licensees and the control operators of the systems. (FCC Warning Notices)
IN OTHER FCC ACTIONS, Mark F. Hubeny N9ZHW, of Kaukauna, WI has been asked to respond to deliberate interference allegations. Harold L. Finley. Jr. of Hillsborough NC is to answer to charges that his uncoordinated W4BAD repeater is causing interference to the N1RIK coordinated repeater. A similar letter was sent to Jeffrey A. Stouffer of Vista, CA, alleging his uncoordinated K6JSI repeater was causing interference to the WB6HTS machine; and James L. McCurry K4EDK of Cherryville, NC was asked to respond to a complaint of "extremely poor signal quality and splattering."
---
TEMPORARY 70 MHZ ALLOCATION APPROVED TO HAM CLUB IN HUNGARY
On June 29, Hungary's telecommunications regulator issued an experimental radio license to the Haros Radioklub "to study propagation of radio waves in the 70 MHz band where all FM broadcasting stopped in February."
A total of 30 radioamateurs were granted access to the band for a period of 30 days that began on July 1st. The temporary license is valid for all operating modes: CW, SSB, narrow band FM and digital modes like JT6M. Maximum effective radiated power (ERP) is limited to 1-kW. The license permits specified Hungarian hams from the club to operate between 70.000 and 70.500 MHz.
The original request was submitted in April. In spite of the lack of an amateur service allocation at 70-MHz the National Telecommunications Authority responded quickly and cooperatively. In the experiment, participants must identify themselves with the prefix "70M" followed by their call sign (less the HA prefix) at the beginning and end of each contact. (For example: HA5PT becomes 70M5PT on 70 MHz.)
The long term goal is to contribute to the joint effort to help create a 70 MHz amateur radio service allocation for Hungary and eventually expand it worldwide.
---
GRANT MORINE, W4GHM, NAMED 2007 YOUNG HAM OF THE YEAR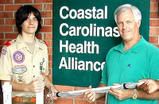 A 17 year old from Wilmington, North Carolina, who carried out a major project to help hospitals in his hurricane-prone area has been chosen as the 2007 Amateur Radio Newsline Young Ham of the Year. Morine is W4GHM, a Technican, and the son of Bill N2COP.
Grant and his dad are active members of the Carolinas Amateur Radio Emergency Service (CARES) which provided the impetus for his Eagle Scout service project helping the Coastal Carolinas Health Alliance (CCHA). That organization covers seventeen hospital campuses throughout North and South Carolina.
W4GHM and several fellow Scouts in Troop 215 in Wilmington built nearly thirty 220-MHz J-pole antennas from PVC pipe donated by Lowe's and gave them to local hospitals and Red Cross chapters.
He also won First Place in the 2004 North Carolina Science Fair. His project: "Can Homemade Antennas Made From Recyclable Materials Work As Well As Commercially Made Antennas?" He made a 2-meter and 70-cm antenna from a steel can, a soda can and a wire coat hanger.
Grant is active when he can be in emergency communications and likes to rag-chew. With high school graduation closing in, Grant says he is "...looking at attending the Naval Academy and from there going to Duke Law School."
As 2007 Young Ham of the Year, Grant Morine, W4GHM, will receive an expense paid trip to the 2007 Huntsville Hamfest and ARRL National Convention slated for August 18th and 19th at the Von Braun Center in Huntsville, Alabama. (Amateur Radio Newsline)
---