---
General Class Question Pool to be reviewed

New Technican exams start July 1st
The newly revised Element 2 Questions must be used in all Technician Class Amateur Radio license examinations administered after July 1. The new 384 question Tech pool will remain in effect until June 30, 2014. Study material is available by telephoning 1-800-669-9594.

Now that the Technician question pool has been completed, it is time to begin thinking about the next pool to be revised: General Class Element 3. The Question Pool Committee (QPC) of the National Conference of Volunteer Examiner Coordinators (NCVEC) is now accepting suggestions for changes to the current pool of questions used for the FCC General License Class exam. New questions are also being solicited.



The question pools are designed with the basic objective of preparing licensees to operate within the FCC rules, safely and within the privileges of the license class. The QPC develops the 3 pools for Technician, General and Extra Class as an opportunity to prepare licensees with a foundation in basic radio operations, electronics and radio science with increased complexity up to the top-of-the-line Amateur Extra Class.

Question pools are reviewed on a four year cycle to include any changes in FCC rules and operating privileges and also to align question pool content with current operating activities and technologies. QPC Chairman, Roland Anders K3RA, requests that all changes or new General Class questions be submitted to the QPC mailbox at qpcinput@ncvec.org before October 1 to allow time for Committee consideration. Please be sure to include an explanation of the reason the change or addition is being requested and site any resource reference that substantiates the change or new question.
---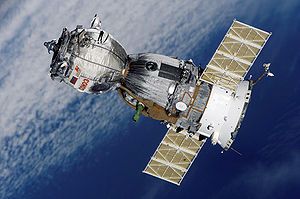 • Three Radio Hams blast-off to Space Station
Radio Amateurs Shannon Walker, KD5DXB, Doug Wheelock, KF5BOC and Fyodor Yurchikhin, RN3FI took-off for the International Space Station (ISS) onboard the Russian Soyuz TMA-19 Tuesday afternoon, June 15. The space shuttles no longer exchange crews at the space station since they are being retired. This is now being handled by Russia.

Only half of the six man ISS crew is changed out at a time. The Soyuz spacecraft is launched to the Space Station from the Baikonur Cosmodrome in Kazakhstan, Central Asia. At least one Russian Soyuz spacecraft is always docked to the Space Station to serve as an escape vehicle.

The three radio hams begin a five-and-a-half month tour of duty on the ISS after they dock with the Zvezda service module on Thursday. They will be part of the Station's Expedition 24 crew where they will have a variety of tasks to perform.


While they are there, the last two shuttle flights will arrive and the ISS crew will be doing the final outfitting of the station including one spacewalk. Additional Soyuz and cargo ships will also be coming and going.

The three arriving ham astronauts will join fellow radio hams Tracy Caldwell Dyson, KF5DBF and Mikhail Kornienko, RN3BF as well as Commander Alexander Skvortsov to bring the crew of the ISS up to six. Doug Wheelock, KF5BOC will become the commander of the Expedition 25 crew.
---
• Amateurs in Arkansas Provide Support to Local Authorities after Flood Kills 20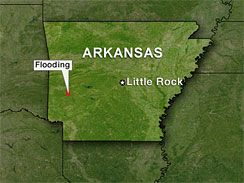 In the early hours of Friday, June 11, as many as 300 campers were taken unawares when somewhere between 6 and 10 inches of rain fell in the rugged Ouachita Mountains as heavy rains caused the normally quiet Caddo and Little Missouri rivers to climb out of their banks during the night.

Cars were wrapped around trees and children's clothing could be seen scattered across several campsites. In all, authorities said that 20 people lost their lives; 18 of the 20 victims have been publicly identified, among them eight children age 7 or younger. Eight of the 18 were from Louisiana, seven were from Texas and three were from Arkansas. The Pike County Sherriff requested the assistance of Amateur Radio operators to assist with search and rescue operations, as well as communications support, at the site.

The day before the flood, ARRL Arkansas Section Manager J.M. Rowe, N5XFW, was on his way to Plano, Texas to attend HamCom in Plano; Rowe also serves as the Arkansas Section Emergency Coordinator. "This storm system eventually caused the flash flood in Montgomery and Pike Counties of Arkansas. I happened to be standing next to the National Weather Service booth at HamCom and they told me there had been a flash flood at the campground and people had been killed."

On Monday, Rowe helped match operators with teams and single volunteers from Texas, Louisiana, Oklahoma, Virginia and Arkansas: "The ham response had been so good that we had more operators than was necessary. I am very proud of the ham community in Arkansas. Read the entire story....
---
• Video: Danger, Beware of Ham Radio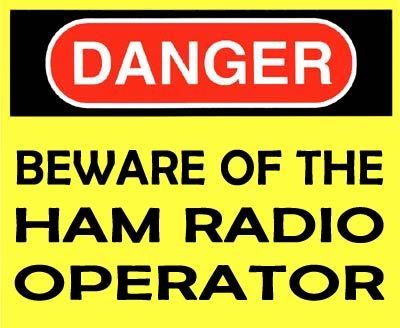 The YouTube is a fabulous video sharing facility. There are plenty of good and informative videos about many aspects of amateur radio. But there's one -- the Truth about Ham Radio by Bert Fisher K1OIK -- that interestingly gives one man's opinion about what's wrong with our hobby and some within it.

Talking from his radio shack during his ten minute tirade on the amateur radio community, he stereotypes hams in a series of over generalizations that could have many of his ill-informed viewers believe we are mostly all fat, engaging in meaningless activity, intellectually deficient, elitist and gutless when not behind a microphone.

Bert K1OIK obviously does not like contests and contesters. He claims they go nuts, abandon their families and even withdraw from important social occasions. Watch this questionable video....
---
• WX4NHC Reports 2010 On-the-Air Station Test Results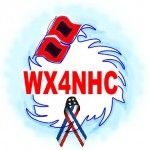 As volunteers at the WX4NHC -- the Amateur Radio station at the National Hurricane Center (NHC) In Miami, Florida -- prepare for one of the most active hurricane seasons predicted since 2005, WX4NHC Assistant Coordinator Julio Ripoll, WD4R, said he is counting on help from amateurs to relay hurricane advisories and weather data to those affected by the storms. "The surface reports that we receive from the affected areas help the NHC Hurricane Specialists fill in gaps in their meteorological data and help with their forecasts," he said. "Relaying the hurricane advisories to those who have lost the conventional means of getting information can help save lives."

On Saturday, May 29, WX4NHC conducted its annual on-the-air station test to promote awareness of the 2010 hurricane season, as well as to verify station equipment performance on the many frequencies and modes that are used to communicate with stations in the affected area during hurricanes. The station was on the air for 8 hours and made 142 contacts with stations in the US, as well as the Caribbean, Central and South America.

Ripoll said that most contacts made on HF were done using phone (single sideband) on the Hurricane Watch Net (HWN) frequency of 14.325 MHz and on the Waterway Net's frequencies of 7.268 and 21.325 MHz, as well as HF and VHF APRS, local Miami-Dade and Broward County VHF and UHF repeaters. WX4NHC also received numerous reports via their online hurricane reporting form and e-mail. Read more....
---