More on the Glenn Baxter, K1MAN Enforcement Action...
---
FCC requests documents from K1MAN on his pending ham license renewal

Baxter's response to FCC again is short.




On October 31, 2011, the FCC sent Glenn A. Baxter, K1MAN, a written request for documents in his possession entitled: "Enforcement Bureau's First Request for Production of Documents." It asks for a multitude of documents in 23 separate categories that the FCC believes are in Baxter's possession.

Baxter, you will remember, is attempting to renew his amateur radio license. Baxter is actually facing two legal proceedings; a trial in Maine federal court and a hearing on the renewal of his ham license

The federal lawsuit is for failure to pay $18,000 in FCC fines for allegedly jamming ongoing Amateur Radio communications, violating the pecuniary interest rules, failure to exercise station control, impermissible broadcasting and failure to file requested information with the FCC.


That federal court case is a completely separate matter from the renewal of Baxter's K1MAN Amateur Radio license which expired on October 17, 2005. Due to the violations, his timely filed renewal is being held up by the FCC and has been pending for more than six years. The FCC will rule on Baxter's license renewal after the federal litigation has concluded. (Case No. WT Docket No. 11-7).

On September 14, 2011, the FCC's Enforcement Bureau asked Baxter to submit answers to a series of questions (called "interrogatories") covering a period from January 1, 2001 to the present. Interrogatories are a "discovery" device used to learn the facts in a pending legal proceeding. Baxter was given 14 days to submit his response which were both mailed and emailed to the FCC on September 28, 2011.

Now, the FCC wants documents from Baxter covering the same period. While we didn't ask for it, Baxter e-mailed us a list of documents requested by the FCC and his response. The FCC's document list was long, drawn out and detailed; his response, extremely short ...maybe even evasive. Here is a snapshot of what the commission asked for.

The FCC wanted copies of all applications and related documents filed with the FCC. Also requested were copies of documents related to his compliance with the rules. Baxter simply replied that "The Commission would be the most complete and reliable source for this requested information."



Baxter referred the FCC to his website in response to requests for documents relating to the Hearing Designation and Forfeiture Order. He did the same on requests for documents relating to his conduct as an amateur radio operator and documents expressing the opinions of others of his on-air conduct.

Requests for transmission/program schedules, aliases used, and information about being banned from using an internet forum or website were answered "Applicant does not keep such documents."

Baxter again referred the FCC to his website for "all published documents" relating to amateur radio. He said he does not have any unpublished, uncirculated or undisclosed documents. He added that he "does have the thousands of tapes and production producing tapes of each K1MAN bulletin transmission going back to 1987, and the Commission is welcome to inspect this tape library at any time. Applicant does not have the resources to make a copy of this library."

He said he had no documents relating to his being paid, directly or indirectly, for any of his transmissions over amateur radio.

On action taken to eliminate interference from his station, Baxter wrote: "Many efforts over the years have been attempted by your Applicant to reduce incidental interference caused by scheduled bulletins. For example, K1MAN would delay startup until after WA1HLR finished his net on 3.890, but he finished later and thus would prevent the startup of later scheduled bulletins. WA1HLR and K1MAN made a public agreement at Dayton tor WA1HLR to modify a K1MAN transmitter so K1MAN could move to 3.892 from 3.890 to eliminate interference to 3.885. WA1HLR never kept the agreement. Efforts via e-mail were made regarding moving slightly from 3.975 to accommodate a nearby net without success.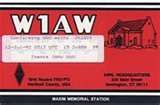 Finally, it was concluded by your Applicant that the least interference was caused by simply publishing a schedule and sticking to it. During the last few years it was decided, unlike W1AW, to abandon scheduled transmissions and simply find a clear frequency on or near the traditionally scheduled frequencies and then transmit 24/7 until the next transmitting cycle. This has eliminated virtually all incidental interference. Otherwise, it is not believed that your Applicant has retained any documents relating to these good faith attempts to reduce incidental interference, which for years included a 3 minute, 2 minute, 1 minute, 30 second and 10 second warning before the start of each scheduled bulletin. This practice was copied by W1AW."



Baxter again referred the FCC to his website in response to documents which support his position that he possesses the proper character to remain a Commission licensee or disprove the FCC's allegations.

The FCC also wants all the documents Baxter relied on when responding to this "First Request For Production of Documents." Again, Baxter referred the FCC to his website. To the FCC's request for all documents he intends to introduce at his renewal hearing he simply answered: "To be determined."

The copy of Baxter's responses that we were supplied with were a little over 2 pages long. The FCC's request for documents came to 9 pages. His response to the FCC was dated November 9, so he either mailed it early or we were supplied with an advance copy. He sent it to a Judy Lancaster, Esq. - an Attorney Advisor - in the FCC's Washington, DC, Enforcement Bureau.
---